Wedding Video Emerald Coast
This Wedding Video Emerald Coast is one of our favorite films to date! Zac and Jess had their special day in one location, but the decor and separation of the room was perfect. The day started out with a bang when we showed up at the hotel to meet them, just in time to see a surprise proposal happening right out front! We were able to capture some photos and video of that right before Zac and Jess walked in to start getting ready.
Jess had a friend do her hair and makeup while we shot her dress, shoes, jewelry and rings. Lane Photographics worked alongside us to capture the wedding day. The dress was a stunning strapless one from Ellynne Bridal, which happens to be owned by Zac's mother, Lynn. After both were dressed and ready, they had their first look out front the hotel. The beam of perfect sunlight shined through the trees and cast a gorgeous lens flare on the moment. We then proceeded to take photos outside near the hotel before packing up and heading to the venue.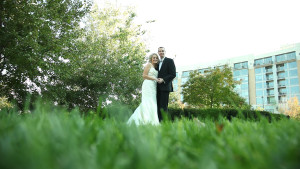 The ceremony was short and sweet with the couple writing their own beautiful vows to each other. It was evident to everyone in the room that these two shared a bond and love that is real and rare. It went smoothly, until the officiant wanted to introduce them out but realized they had forgotten to exchange rings! One of those memories they will never forget.
After the kiss and exit, they mingled with guests, shared a few drinks and laughs before the reception events kicked off. Their signature drink was a hit, as was the decorated furniture sections for the guests to relax and enjoy. The band was leading the way with dinner, toasts, cake cutting, and dancing. The night flew by, with many memories made and captured, that we can't wait to share with you.
Zac + Jess | Wedding Love from Silver Shade Studios on Vimeo.