Turks and Caicos Wedding
We were thrilled when we got the call for a Turks and Caicos wedding with these two to capture all the memories of their special day. The bride is a wedding planner and the groom also films weddings, so he has been a friend for years! We couldn't have been happier to help them capture their memories in such a gorgeous place.
The island was small and beautiful, with only a handful of family and friends in attendance, it was the perfect, intimate setting. Everything was perfectly orchestrated down to the tiniest details – a gorgeous circular shaped wedding set up allowed every guest the best seat in the house. They also opted for an unplugged ceremony, letting their professionals capture all the moments and allowing their guests to really be present in the moment.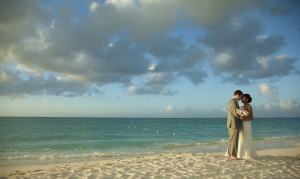 Immediately following the ceremony, the guests were treated to a cocktail hour on the beach, with hors de'ourves and wine while an musician played authentic island music for everyone to enjoy. The bride and groom had their first dance at sunset, with feet in the water. Once dark, the guests lit paper lanterns and sent them off into the sky.
They had a gorgeous, colorful reception on the property inside the resort where they cut the cake, toasts were given, and a delicious meal was served. The intimate setting let all the guests enjoy each others company and get to know each other. The day couldn't have gone any better – This one is a must watch!
Resort: Alexandra Resort
Photography: Forever Photography Studio
Tye + Talayna | Turks & Caicos | Wedding Film from Silver Shade Studios on Vimeo.