Silver Shade Studios Reviews
In the spirit of sharing one of our Silver Shade Studios reviews, we love what this bride had to say about our services, especially in conjunction with photography. We don't believe it should ever be "one or the other" – both are completely separate memories of your wedding day that will make a complete story. See the emotional moments in photographs while you hear the voices, vows, toasts and see the interactions, hugs, love.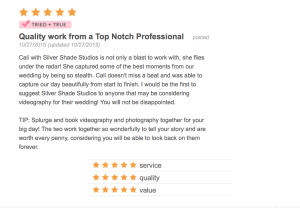 We truly appreciate this Silver Shade Studios review from The Knot and LOVE working with all of our fabulous couples. We hope you will choose us for your wedding videography needs and join the Silver Shade Studios team!